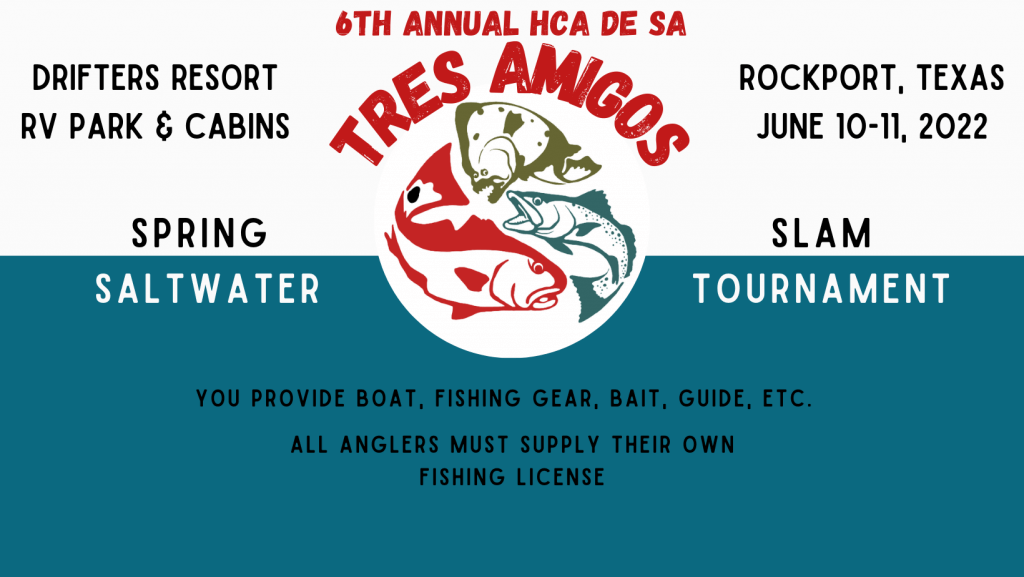 Tres Amigos Fishing Tournament
Lord of the Rods
Sold Out
2 teams, VIP seating & Title swag at Captain's meeting & Awards dinner, logo on flyer, event banner, social media and website
Big Rods
$ 2,500
1 team, VIP seating & Presenting swag at Captain's meeting & awards dinner, logo on flyer, event banner, social media and website
Topwater
$ 1,500
1 team, VIP seating & VIP swag at Captain's meeting & Awards Dinner, logo on flyer, event banner and website
Backwater
$ 1,000
1 team, VIP seating and swag at Captain's meeting & Awards dinner, logo on event banner
Team Entry
$ 500
Team of 4: Includes tourney entry, Captain's reception, awards dinner, and 1 door prize ticket per angler
Fishing Non-Angler Guest Meal
$ 25
Hotel:
La Quinta
2921 Hwy 35 N, Rockport, TX 78382
(361) 727-9824
Group: HCA de SA
Reservation Deadline: 6/3/21
Amigo Slam Category (1st place only)
GRAND PRIZE - The grand prize Amigo Slam (stringer) consists of (3) individual fish. The three fish must include ONE (1) Slot Speckled Trout (17-23"), ONE (1) Slot/Untagged Redfish (20-28"), and ONE (1) Flounder (15"-No Limit). The winner is decided by the heaviest combined total weight. The trout and redfish in this category will be your heaviest redfish and trout from your Heaviest Stringer.
*Winner receives the team Calcutta.
Heaviest Stringer Category (1st -3rd Place)
Heaviest stringer will consist of (3) Slot/Untagged Redfish (20-28") and (1) Slot Speckled Trout (17-23"). The heaviest redfish and trout from this category will be used in the Amigo Slam if you are entering that category.
* 1st place is $1,600
** 2nd place is $1,200
*** 3rd place is $800
Women's Category
Heaviest Redfish – Heaviest individual Slot/Untagged Redfish (20-28") No oversized/tagged redfish allowed. Can be same or different than redfish used in Heaviest Stringer/Amigo Slam.
* Payout is $200
1. All entrants must read and sign waiver stating they understand and follow all rules and stipulations of the tournament. This is an amateur tournament for ladies and gentlemen. All entrants are expected to hold themselves to the highest standards of conduct, safety, observance of game laws, and courtesy as well as compliance with the rules for a fun and successful event.
2. A team may consist of up to 4 people and one guide for a total of 5 people on the boat. The guide may not fish on behalf of the team.
3. Professionals and/or guides are not allowed to enter or fish this tournament if you are not being paid for a charter by a registered team.
4. A Professional is defined as anyone who has acted as a professional guide within the last 12 months, anyone who has been compensated in any manner by a company or sponsor to take someone fishing (besides reimbursement for expenses or shared expenses), is paid by sponsors, is given discounts or product by sponsors in place of or in addition to payment or has been compensated (besides reimbursement for expenses or shared expenses) for tournament entry fees. Prizes won in
the past do not count towards professional status.
5. All teams must leave the dock together and remain together throughout the tournament hours.
6. All team members must always remain within plain eyesight of their partners and boat.
7. You must have a valid current saltwater fishing license from the Texas Department of Parks and Wildlife to fish in this tournament. You must fish according to all Federal and State laws as enforced by Texas Parks and Wildlife. Any individual receiving a citation during this event for any infraction of any game and fish laws will automatically disqualify their entire team.
8. All fishing areas must be available to the general public. Any legal saltwater fishing spot within range of the weigh-in that allows you to leave in the morning and return on time.
9. All fish must be taken by rod and reel only. No cast nets, bow fishing, gigging etc.
10. All live, dead, or artificial bait is allowed.
11. All fish weighed in must have been caught by team members. No borrowed fish.
12. Your team must decide which fish and what categories you wish to enter into the weigh-in prior to addressing the weighmaster. Teams may observe other weigh in activity but once a declaration is made a team will not be allowed to substitute fish or change categories! If a fish is disqualified
for any reason, another fish may not be substituted in its place. The fish you pick is the fish you enter. No scales or means of measuring will be available from the weighmaster or tournament members prior to official weigh in.
13. Weighmaster services will be provided by Gulf Coast Weighmaster Services. They are trained to check for freshness of the fish and for any tampering or alterations made to the fish. Any and all decisions of the Weighmaster are FINAL – No questions, appeals, or disputes are allowed! Arguing is
grounds for disqualification!
14. NO OVERSIZED FISH ARE ALLOWED IN ANY CATEGORY.
15. The weigh-in will start no earlier than 2:00 p.m. at Drifter's Resort – 4401 TX-35, Rockport, TX 78382 and the deadline for entry into the line is 4:00 p.m. All teams must in line for weigh-in no later than 4:00 p.m. sharp.
15. In the event of a weight tie, longest length will become the determining factor for deciding a winner. For multiple fish entries that result in a tie and must be decided by length, the longest Redfish will be the primary determinant. If the length of the Redfish results in a tie, then the longest Trout will decide, followed by the longest Flounder.
16. Per the rules of the Texas Department of Parks and Wildlife, it is illegal to dispose of caught fish with meat intact. All fish should be properly cleaned and stored for consumption. If
you do not want your fish, offer them to someone else.
17. The tournament remains active rain or shine. If weather or other events preclude any fishing activities, any prizes unclaimed will stay that way.
18. THESE RULES CAN BE UPDATED AT ANY TIME PRIOR TO THE TOURNAMENT IF NEW RULES ARE
ISSUED BY THE TEXAS DEPARTMENT OF PARKS AND WILDLIFE.